Unleash Smart Surveillance with HIKVISION DS-7104NI-Q1/M 4-ch Mini 1U NVR
Introduction: In the fast-paced world of security technology, HIKVISION has established itself as a leader in delivering innovative solutions that redefine surveillance. The DS-7104NI-Q1/M 4-ch Mini 1U NVR is a prime example of HIKVISION's commitment to excellence. This compact yet powerful network video recorder offers advanced features and seamless integration, making it an ideal choice for small-scale security installations. In collaboration with HIKD, a trusted distributor, HIKVISION brings you a reliable and efficient solution to safeguard your premises.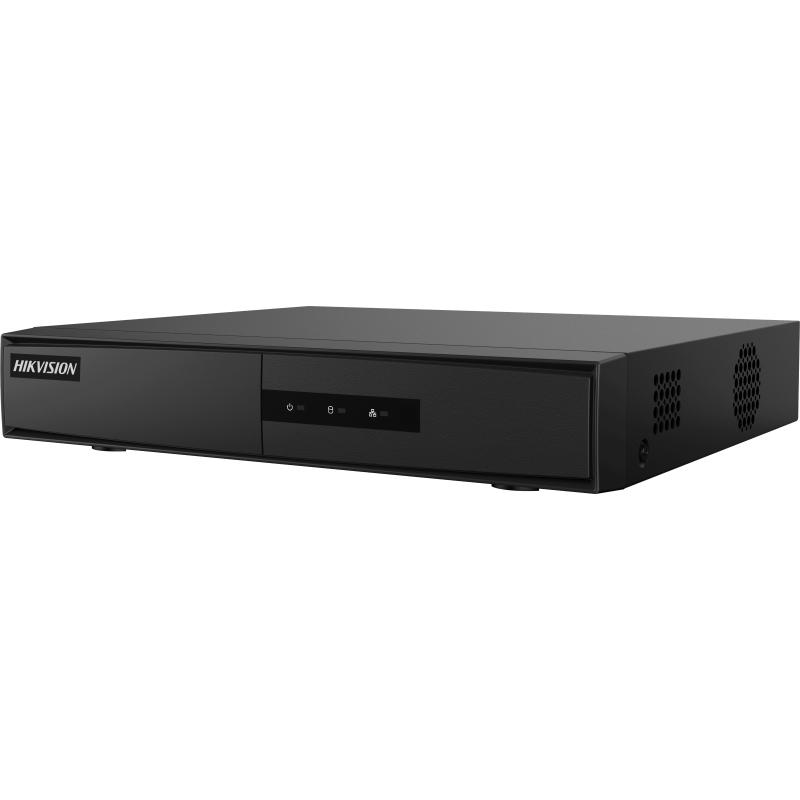 Cutting-Edge Video Compression and Bandwidth Optimization: The HIKVISION DS-7104NI-Q1/M NVR incorporates advanced video compression technologies, including H.265+/H.265/H.264+/H.264. These compression algorithms ensure efficient storage utilization without compromising on video quality. With up to 40 Mbps incoming bandwidth and 60 Mbps outgoing bandwidth, you can enjoy smooth and uninterrupted data transmission, capturing every detail with utmost clarity.
Flexible Camera Inputs and High-Quality Decoding: Equipped with up to 4-ch network camera inputs, the DS-7104NI-Q1/M NVR offers flexibility in surveillance system design. Connect a diverse range of cameras to capture every angle and ensure comprehensive coverage of your premises. With up to 4-ch 1080p decoding capability, you can view your footage in high definition, allowing for accurate identification and analysis of critical events.
Simultaneous HDMI and VGA Output: The DS-7104NI-Q1/M NVR provides both HDMI and VGA outputs, allowing for simultaneous connection to multiple display devices. Whether you prefer the high-definition output of HDMI or the versatility of VGA, this NVR caters to your specific needs. Monitor your surveillance footage with ease and precision, ensuring that every detail is visible on your chosen display devices.
Seamless Integration and Reliable Performance: HIKD, a trusted partner of HIKVISION, plays a pivotal role in delivering top-tier security solutions. Collaborating closely with HIKVISION, HIKD ensures that customers have access to the latest products and expertise in the industry. With the DS-7104NI-Q1/M NVR, you can experience seamless integration with other HIKVISION devices, allowing for a comprehensive and cohesive security ecosystem.
Intuitive Management and Remote Access: Managing your security system is made effortless with the user-friendly interface of the DS-7104NI-Q1/M NVR. Configure and monitor your surveillance system with ease using the HIKVISION NVR Management Software. Enjoy remote access and control, enabling you to stay connected and informed wherever you are. With HIKVISION's commitment to innovation and HIKD's dedicated support, managing your security system has never been more convenient.
Upgrade Your Security Infrastructure: Elevate your security infrastructure with the HIKVISION DS-7104NI-Q1/M 4-ch Mini 1U NVR. Benefit from advanced video compression, optimized bandwidth utilization, and flexible camera inputs. Partner with HIKD, a trusted distributor of HIKVISION products, to access a wide range of security solutions tailored to your specific needs. Protect your premises with confidence, knowing that HIKD and HIKVISION are committed to delivering cutting-edge technology and exceptional service.
Contact HIKD for HIKVISION NVR Solutions: Website | Email: sales@hikdistribution.com
About Author