Unleash the Power of Surveillance with HIKVISION DS-96064NI-I16 64-ch 3U 4K Super NVR.
Introduction: When it comes to advanced surveillance solutions, HIKVISION stands at the forefront, delivering groundbreaking technology that redefines security. Introducing the
DS-96064NI-I16
64-ch 3U 4K Super NVR, HIKVISION once again pushes the boundaries of innovation. With its unparalleled features and the support of HIKD, a trusted partner, the DS-96064NI-I16 empowers you to achieve comprehensive and reliable surveillance like never before.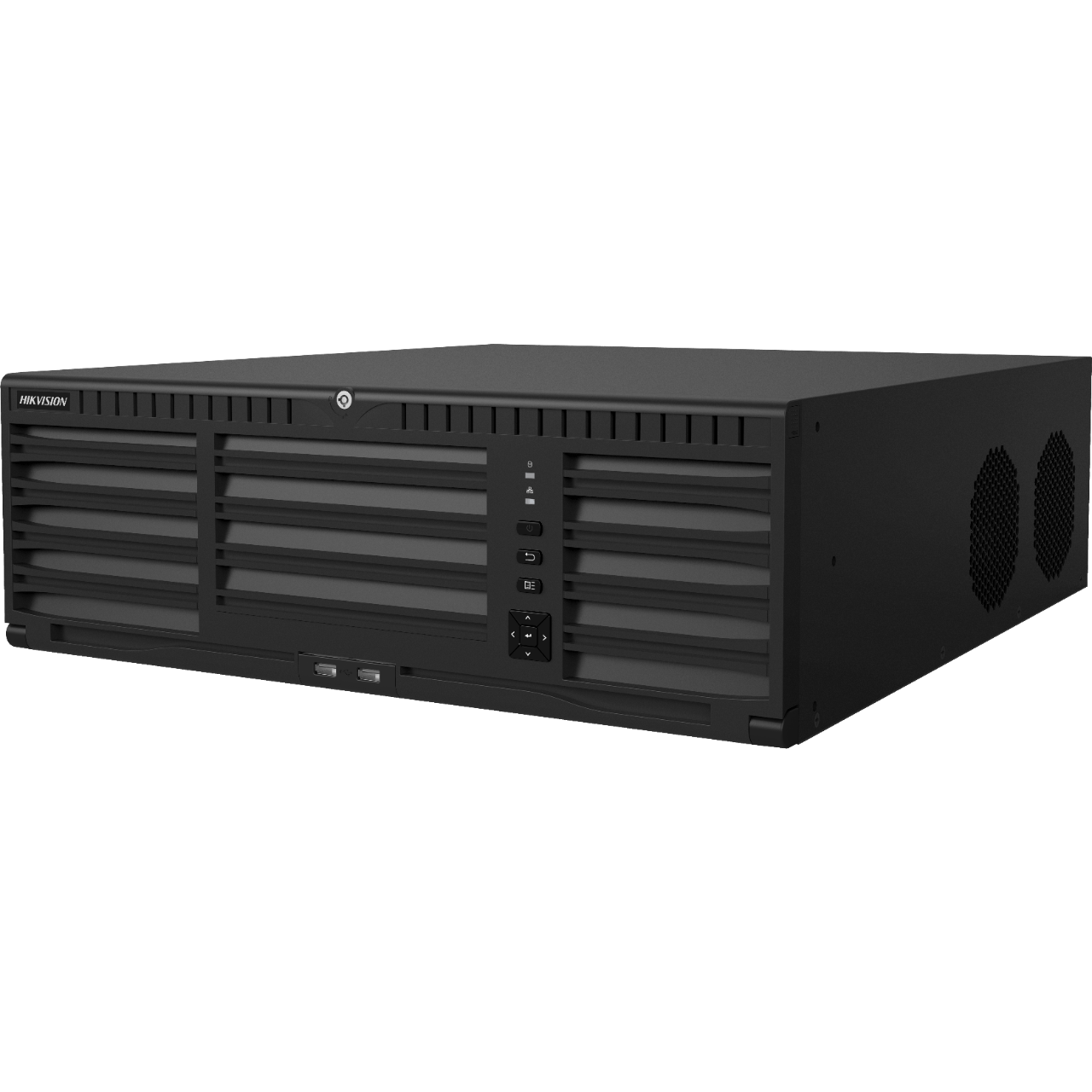 Seamless Connectivity and Expanded Capacity: The HIKVISION DS-96064NI-I16 NVR allows for seamless integration with up to 64 channel IP cameras, ensuring comprehensive coverage of your premises. With up to 512 Mbps high incoming bandwidth, this NVR ensures robust connectivity for all connected cameras. You can trust that your surveillance system will operate flawlessly, capturing every detail and providing real-time monitoring of your surroundings.
Enhanced Storage and Data Security: Equipped with 16 HDD slots, the DS-96064NI-I16 NVR offers ample storage capacity for continuous video recording. This ensures that critical footage is securely stored and readily accessible for later analysis or investigation. Additionally, the NVR supports RAID 0, 1, 5, 6, 10, and N+1 hot spare configurations, providing even more reliable data storage and effectively mitigating the risk of data loss. With HIKVISION's advanced streaming technology, you can experience smooth live view, even in challenging network conditions.
Versatile Integration and Specialist Camera Support: The DS-96064NI-I16 NVR supports a range of specialist cameras, including people counting, ANPR (automatic number plate recognition), and fisheye cameras. This versatility allows you to tailor your surveillance system to meet specific requirements, whether it's for advanced analytics, accurate identification, or panoramic views. By leveraging HIKVISION's specialist camera options, you can enhance the effectiveness and scope of your security operations.
Seamless Monitoring and Display Options: The DS-96064NI-I16 NVR features 2 HDMI (different source) and 1 VGA interfaces, providing multiple display options for monitoring your surveillance feeds. Whether you prefer a large high-resolution display or multiple screens for simultaneous viewing, this NVR offers flexibility to accommodate your preferences and monitoring setup.
HIKD: Your Essential Partner in HIKVISION Solutions: HIKD, a leading distributor of HIKVISION video surveillance products, plays a pivotal role in delivering top-tier surveillance solutions. As an essential partner, HIKD combines industry expertise with a commitment to innovation and customer satisfaction. With their extensive range of HIKVISION products and reliable support, HIKD ensures that businesses can harness the full potential of HIKVISION's technology.
Unlock the Power of Surveillance with HIKVISION and HIKD: Experience the unrivaled capabilities of the DS-96064NI-I16 64-ch 3U 4K Super NVR, supported by HIKD's expertise. With its seamless connectivity, enhanced storage, and versatile integration options, this NVR empowers you to achieve comprehensive surveillance coverage and data security. Trust HIKVISION and HIKD to provide you with the latest technology and tailored solutions to protect your premises effectively.
About Author